Can low carb help those living with type 2 diabetes into remission?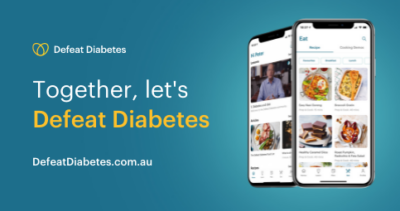 Introduction
In Australia, 1.3 million people are living with diabetes and 100,000 people are being diagnosed each year.  In addition, two million are living with pre-diabetes, it's a health crisis that requires urgent attention.
There is growing evidence that a low carb approach to managing type 2 diabetes, such as Australia's     Defeat Diabetes Program, founded by Dr Peter Brukner, can reduce people's risk of developing the condition and help put it into remission.
What do we mean by remission?
There's been much debate over the years whether type 2 diabetes can be reversed or put into remission, partly because there was no universally agreed definition of what 'remission' looks like until recently.
In August 2021, a new international report1 agreed that type 2 diabetes could be put into remission and provided a global definition of the term.
The report suggests that people with type 2 diabetes be considered in remission if they achieve an HbA1c level of less than 6.5% for three months without the need for medication.
Carbohydrates and type 2 diabetes
Our blood glucose and insulin respond differently to different macronutrients. Fat has minimal impact, protein has moderate, and carbohydrates can have a high impact on postprandial serum glucose and insulin. Clinicians have been taking advantage of this understanding for over a century, recommending low carbohydrate diets to manage diabetes well before insulin or medications were available.2
Since the discovery of insulin in 1921, people who experience a progressive loss of adequate β-cell insulin secretion on the back of insulin resistance have been advised to inject themselves with insulin and titrate according to amounts of carbohydrates consumed. This direct relationship between dietary carbohydrates and postprandial serum glucose led to the development of medications that lower blood glucose levels and improve insulin sensitivity.
This downstream, medication-based approach to type 2 diabetes may mean that individuals will need to take medication for the rest of their lives (and experience the costs and potential side effects). So instead, we need to look upstream and address one of the root causes of diabetes, starting with diet.
Can diabetes programs be delivered online?
In recent years, highly effective and digitally delivered programs in the UK and US are complimenting traditional approaches to diabetes care.
A recent UK study reviewed results from over 450,000 participants of the Low Carb program on diabetes.co.uk. Of the 743 participants in the study with a starting HbA1c above the threshold of 6.5%, 26% reduced their HbA1c to below 6.5%  while taking no glucose-lowering medications or just metformin.7 While longer-term studies are required to assess the program's efficacy over a prolonged period, the initial results are promising.
Virta Health's remote care model of low carbohydrate diets for type 2 diabetes has produced similar results in the US. Virta Health has published data annually, with the latest research showing results after two and 3.5 years. The two year results demonstrated use of any glucose-lowering medication (excluding metformin) among participants declined (from 55.7% to 26.8%), including insulin (-62%) and sulfonylureas (-100%). 17.6% of participants in the treatment group were found to be in remission.8
After 3.5 years, 71.4% of diabetes medications other than metformin were discontinued. 45.5% of participants achieved HbA1c <6.5% with either no medication (52%) or only metformin (48%). Again, longer-term studies are required.9
About Defeat Diabetes
Defeat Diabetes is Australia's first doctor and dietitian-led program that provides a path to remission for those diagnosed with pre-diabetes and type 2 diabetes. The program offers education from medical practitioners, video masterclasses, cooking demonstrations, recipes, and meal plans to improve the health of its members through a low carb lifestyle.
Developed by Dr Peter Brukner OAM, the Defeat Diabetes Program has already seen significant success, with 63% of members putting their type 2 diabetes into remission after three months on the program and 80% experiencing significant weight loss.
Claim your complimentary access to the Defeat Diabetes Program
Reducing carbohydrate intake is one approach to improve blood glucose levels. If you're interested in learning more about Defeat Diabetes:
Experience the Defeat Diabetes Program for 12 months free of charge by visiting www.defeatdiabetes.com.au/register and entering the code ADEA2021.
This article is a paid advertorial.
References
1.
Riddle, MC, Cefalu, WT, Evans, PH, et al. Consensus report: Definition and interpretation of remission in type 2 diabetes. Diabet Med. 2021; 00:e14669. https://doi.org/10.1111/dme.14669
2.
Allen FM, Stillman E, Fitz R: Total dietary regulation in the treatment of diabetes. Monograph No. 11. New York, Rockefeller Institute for Medical Research; 1919.
3.
Chen, C. Y., Huang, W. S., Chen, H. C., Chang, C. H., Lee, L. T., Chen, H. S., Kang, Y. D., Chie, W. C., Jan, C. F., Wang, W. D., & Tsai, J. S. (2020). Effect of a 90 g/day low-carbohydrate diet on glycaemic control, small, dense low-density lipoprotein and carotid intima-media thickness in type 2 diabetic patients: An 18-month randomised controlled trial. PloS one, 15(10), e0240158. https://doi.org/10.1371/journal.pone.0240158
4.
Choi, Y. J., Jeon, S. M., & Shin, S. (2020). Impact of a Ketogenic Diet on Metabolic Parameters in Patients with Obesity or Overweight and with or without Type 2 Diabetes: A Meta-Analysis of Randomized Controlled Trials. Nutrients, 12(7), 2005. https://doi.org/10.3390/nu12072005
5.
Esther J van Zuuren, Zbys Fedorowicz, Ton Kuijpers, Hanno Pijl, Effects of low-carbohydrate- compared with low-fat-diet interventions on metabolic control in people with type 2 diabetes: a systematic review including GRADE assessments, The American Journal of Clinical Nutrition, Volume 108, Issue 2, August 2018, Pages 300–331, https://doi.org/10.1093/ajcn/nqy096
6.
Verkoelen H, Govers E, Maas H, Koek GH. Low Carbohydrate Lifestyle Reduces Significantly Insulin Need in Type 2 Diabetes Patients. Interventions Obes Diabetes 4(4). IOD.000591. 2020. DOI: 10.31031/IOD.2020.04.000591
7.
Outcomes of a Digitally Delivered Low-Carbohydrate Type 2 Diabetes Self-Management Program: 1-Year Results of a Single-Arm Longitudinal Study. JMIR Diabetes. 2018 Aug 3;3(3):e12. DOI: 10.2196/diabetes.9333.
8.
Athinarayanan, S. J., Adams, R. N., Hallberg, S. J., McKenzie, A. L., Bhanpuri, N. H., Campbell, W. W., Volek, J. S., Phinney, S. D., & McCarter, J. P. (2019). Long-Term Effects of a Novel Continuous Remote Care Intervention Including Nutritional Ketosis for the Management of Type 2 Diabetes: A 2-Year Non-randomized Clinical Trial. Frontiers in endocrinology, 10, 348. https://doi.org/10.3389/fendo.2019.00348
9.
McKenzie, A., Athinarayanan, S., Adams, R., Volek, J., Phinney, S., & Hallberg, S. (2020). SUN-LB113 A Continuous Remote Care Intervention Utilizing Carbohydrate Restriction Including Nutritional Ketosis Improves Markers of Metabolic Risk and Reduces Diabetes Medication Use in Patients With Type 2 Diabetes Over 3.5 Years. Journal of the Endocrine Society, 4 (Suppl 1), SUN-LB113. https://doi.org/10.1210/jendso/bvaa046.2302