Sick day management: Updated ADEA resources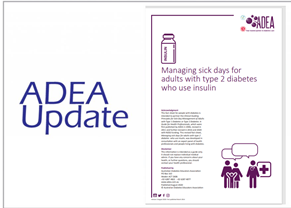 Introduction
Managing diabetes during an intercurrent illness is challenging, and education regarding 'Sick Day Management' remains a crucial aspect of diabetes education for people with diabetes and their carer/s. If not managed effectively and efficiently, intercurrent illness in people with diabetes, can result in acute complications such as hyperglycaemia, diabetic ketoacidosis (DKA), hyperosmolar hyperglycaemic state (HHS), hypoglycaemia or other adverse outcomes.
The discussion and development of a Sick Day Management plan is an integral component of diabetes self-management education. The development of a plan, along with education on sick day management strategies, should be provided at diagnosis and reviewed or updated at regular intervals, particularly when other aspects of diabetes management change. This is one of the most important activities Credentialled Diabetes Educators (CDEs) can undertake.
In 2006, ADEA developed the initial Sick Day Guidelines to support CDEs in providing sick day management education. Over time the Sick Day Management Guidelines have undergone several revisions/updates culminating in a major revision in 2020. The updated document is available on the ADEA website.
The updated Guidelines and consumer resources reflect current evidence and expert opinion from a project Expert Advisory Group, along with feedback from ADEA members on the previous versions of the Guidelines and consumer materials, and input from consumers with diabetes.
Significant changes include:
A complete review and update of the content in line with the latest published evidence and expert opinion.
Updated and expanded definitions.
Information on the use of:

CGM/Flash GM including effects of interfering substances.
Closed loop systems.
Euglycaemic-DKA (eu-DKA) risk with SGLT2i agents.
Other medicines that may need consideration during sick days.

Updated clinical recommendations for monitoring blood glucose and ketones and insulin/medication adjustment.
information in the insulin adjustment tables was updated, simplified and converted into flowcharts, in the technical guideline and consumer resources.
The development of separate consumer resources for:

People with T1D who administer multiple daily injections.
People with T1D using insulin pump therapy.
People with type 2 diabetes (T2D) using or not using insulin.
The development of more detailed information guide and simplified guide plus editable sick day action plans for each group described above.
The purpose of the ADEA Clinical Guiding Principles for Sick Day Management of Adults with Type 1 Diabetes or Type 2 Diabetes is to1:
Assist health professionals in providing best practice self-management advice and support for adults with T1D and T2D, when they experience an intercurrent illness.
Reduce the risk of acute glycaemic deterioration in PWD who are unwell.
The resources
Clinical Guiding Principles for Sick Day Management of Adults with Type 1 Diabetes or Type 2 Diabetes
This resource provides a best practice framework for health professionals to discuss diabetes sick day management with adults with T1D or T2D. By supporting health professionals' capacity to provide best practice advice and support, people with diabetes  can be better equipped with the relevant knowledge, not only to manage mild intercurrent illness at home if appropriate, but also to be aware of when immediate medical advice must be sought. The National Diabetes Services Scheme (NDSS) funded the update of the sick day management guidelines and they were developed by ADEA. The guidelines were also reviewed by the Medical, Education and Scientific Advisory Council (MESAC) before  publication.
Complementary consumer resources
For each group of people listed below, there is an information guide and accompanying Sick Day Action Plan:
People with type 1 diabetes who use insulin pump therapy.
People with type 1 diabetes who use multiple daily injection therapy.
People with type 2 diabetes who use insulin.
People with type 2 diabetes who do not use insulin.
Conclusion
ADEA resources are reviewed regularly, in line with up to date evidence and feedback from members.
We value all contributions made to ADEA resources, and would love to hear from you regarding these revised sick day management guidelines and consumer documents, 2020 ed.
Please drop in a comment below, or email po@adea.com.au with your feedback.
Acknowledgements
More than 100 members provided feedback to support the updating of these resources, and we sincerely thank you for your valuable advice.
We also extend our thanks to the Expert Reference Group, who generously provided their expertise and guidance in updating these resources: Ass Prof Glynis Ross, Adj Ass Prof Margaret McGill, Maggie Stewart, Barbara White, Kimberley Zerk and Susan Armstrong.
We also thank the dedicated ADEA consumer advisory group.