Diabetes Medications can cause Urinary or Faecal Incontinence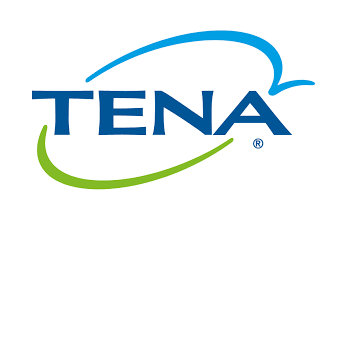 Introduction
Health care professionals and people with diabetes, often associate diabetes complications as being confined to reduced vision, impaired renal function, poor immunity, skin issues, stroke or myocardial infarction. But less well known are other complications and medications, that can directly affect the gastrointestinal and urinary tract
Diabetes medications that can cause diarrhoea or faecal incontinence
1.Metformin
Is the tenth most commonly prescribed medicine in Australia.5
In the ADOPT study of more than 4000 people with type 2 diabetes 23.7% of participants taking metformin reported diarrhoea.6 Also metformin-induced gastrointestinal symptoms have been shown to have a direct impact on quality of life.8 Two different formulations are available: a shorter duration and an extended release
Most common side effects:
nausea, vomiting
vitamin B12 malabsorption
diarrhoea which can be profound and explosive and can lead to faecal incontinence
Loose bowel actions can occur when metformin is commenced, or when the dose is increased and generally last for a few days. However, some people with diabetes experience diarrhoea due to metformin, that does not resolve. This may be due to the dose taken, especially at the maximum 3g dosing for the shorter duration formulation. In response to diarrhoea, switching to the extended release or reduced dosing can minimise GIT intolerance.7
The ability to offer another medication option if diarrhoea is ongoing or severe, will depend on what a person with diabetes is taking and what aligns with the PBS.  If they are taking 2 or 3 other oral agents, it may mean adding an injectable glucose lowering medicine such as a GLP-1 agonist or insulin. The Australian Diabetes Society released new guidelines in December 2019.
It is worthwhile always asking people with diabetes that are prescribed metformin, if they experience diarrhoea on a regular basis as many could be hiding it due to embarrassment. Also keep in mind that often, people with type 2 diabetes believe that diarrhoea is a way to help them lose weight, rather than as an adverse drug reaction, that has no impact on weight status.
2.Acarbose
Acarbose is an anti-diabetic medication that slows down the action of certain chemicals, that break down food to release glucose into the blood. Slowing food digestion helps keep blood glucose from rising after meals. But it is now prescribed rarely due to its minimal glycaemic benefits 11
Most common side effects:
diarrhoea which can lead to faecal incontinence
flatulence
abdominal bloating, pain
a bowel ileus can occur (in extreme cases) 9
Diarrhoea related to other causes
Diabetes and Autonomic Neuropathy
"Diabetic diarrhoea" in the absence of other causes or adverse outcomes from medication, may be due to autonomic neuropathy leading to abnormal motility and secretion of fluid in the colon2
Exocrine Pancreatic Insufficiency
This is a condition seen more commonly in people with type 1 and type 2 diabetes compared to the general population. It is characterised by a deficiency in the pancreatic enzymes released to assist with digestion causing diarrhoea or faecal incontinence.  Other symptoms could include loss of appetite, weight loss, steatorrhea, flatulence and abdominal pain 4
Other Medical Conditions
A variety of medical conditions can cause persistent diarrhoea in people with diabetes such as:
malabsorption disorders such as coeliac disease
irritable bowel syndrome
pancreatitis
an overactive thyroid 1
Assessment and treatment of Diabetes- related diarrhoea
assess the person with diabetes for watery stools or evidence of faecal urgency
assess if excessive artificial sweeteners are being consumed as this can contribute to diarrhoea. This diarrhoea usually occurs at night (but can also occur during the day)3
bowels can be opened up to 20 times each day for many persons with diarrhoea. These episodes can last for days or weeks and then resolve spontaneously for a variable period of time. Between events of diarrhoea, bowel habits may return to normal or swing towards constipation.3
treatment needs to focus on ensuring adequate fluid and electrolyte intake, antidiarrheal agents, fibre supplements. 3
perineal hygiene needs to be encouraged and monitored if diarrhoea is occurring due to the risk of skin breakdown 3
check for any food allergies such as fructose (FODMAP related foods) or check for coeliac disease which can cause stomach upsets (the gene for coeliac disease and diabetes is closely linked with up to 10 per cent of people with coeliac disease also have type 1 diabetes.12 )
Diabetes and Constipation
Constipation is extremely common for those with diabetes. It affects nearly 60% of people with diabetes.1 Sub-optimal glycaemic management can contribute to dehydration, thus increasing the risk for constipation.  Review by an Accredited Practising Dietitian can be incredibly useful, to assist people with diabetes to consider strategies that increase dietary fibre and adequate fluid intake. Increasing daily physical activity can also help.
Diabetes medications that can cause urinary symptoms or urinary incontinence
SGLT2 inhibitors
These are sodium-glucose co-transporter-2 (SGLT2) inhibitors (also known as gliflozins) and are a new group of oral medications released in 2013 to treat type 2 diabetes. They work by inhibiting the reabsorption of glucose in the kidney and therefore lowering blood glucose. (23)
Currently the three agents available are empagliflozin, dapagliflozin and ertugliflozin.
They are fast becoming one of the most prescribed diabetes medications after metformin due to their benefits such as:
effective lowering of blood glucose levels
can assist in weight loss
can reduce risk of cardiac events
can reduce hospitalisation risk due to reducing heart failure risk.
This class of drugs reduce the amount of glucose that is reabsorbed in the kidney back into the main circulation, by allowing more glucose to be excreted into the urine.
Most common side effects:
polyuria, nocturia or urinary frequency – due to their diuretic affect 10
urinary incontinence may worsen
vulvovaginal candidiasis (a yeast infection of the vagina and vulva); this is the most common side effect
balanitis in uncircumcised men (inflammation of the foreskin and head of the penis). In extreme cases, it is known to contribute to Fournier Gangrene (a gangrene that can affect the external male genitalia) 10
for those where perineal hygiene may be difficult to maintain, the risk of urinary tract infection can be increased10
often causes mouth dryness and thirst 9
How can TENA help?
Faecal Duo Pad
The TENA duo pad is designed specifically to absorb faeces, where there is double incontinence.  It is used in partnership with a base pad such as Pants, Slip or Flex to protect the base pad from faecal contamination as the duo pad can be discarded and the base pad can stay in place.  Find out more here  https://www.tenaprofessional.com.au/professional/products/faecal-pads/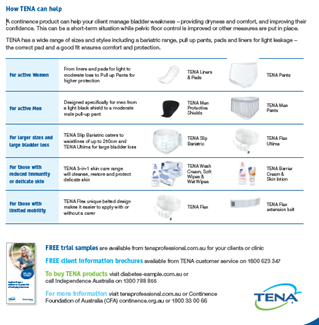 The entire TENA range is designed to give expert skin care to at risk skin.   Our absorbent products will ensure that skin is kept dry and then our skin care range ensures that the skin is kept clean and protected.
For assistance with the TENA product range please use our TENA product selector on tenaprofessional.com.au or tenaprofessional.co.nz
TENA also has a range of skincare products for the body and the perineum. We offer a non- rinse cleanser, wet & dry wipes and a barrier cream for the perineum and rectal area to protect at risk skin and to maintain the normal pH of the skin.
Clean –  Our no rinse wash cream is great for those whose skin is sensitive to soap and water and also acts as a protector, used with our soft wipes it is easily applied and absorbed https://www.tenaprofessional.com.au/professional/products/cleanse-no-rinse/
Protect  Our skin lotion moisturises the skin and protects from skin tears- https://www.tenaprofessional.com.au/professional/products/moisturise/ and our Barrier cream helps to protect delicate areas from redness and excoriation https://www.tenaprofessional.com.au/professional/products/protect/
You can also access our skin care infographic to assist with how to apply different skin care products
https://az735690.vo.msecnd.net/docs-c5/15/210015/original/simple-guide-to-tena-skincare-v2.pdf
References
1.
Vinik AI, Erbas T: Recognizing and treating diabetic autonomic neuropathy. 2001 Cleve Clin J Med 68:928–944.
2.
Wolosin JD & Edleman SV. Diabetes and the Gastrointestinal Tract. 2000 Clinical Diabetes 18(4).
3.
Hillson R Diarrhoea and diabetes Rowan Hillson. Practical Diabetes 35(6):196-196.
4.
Hardt PD, Brendal MD, Kloer HU, Bretze RG. Is pancreatic diabetes (Type 3c Diabetes) underdiagnosed and misdiagnosed? Diabetes Care 2008 Feb; 31(Supplement 2): S165-S169.
5.
Top 10 drugs 2017-2018 Australian Prescriber December 2018; 41:194.
6.
Kahn SE, et al.; ADOPT Study Group. Glycemic durability of rosiglitazone, metformin, or glyburide monotherapy. 2006 N Engl J Med 355:2427–43.
7.
Jabbour S & Ziring B Advantages of extended-release metformin in patients with type 2 diabetes mellitus 1011 Postgrad Med 123(1):15-23.
8.
Florez H, Luo J, Castillo-Florez S, Mitsi G, Hanna J, Tamariz L, Palacio A, Nagendran S, Hagan M Impact of metformin-induced gastrointestinal symptoms on quality of life and adherence in patients with type 2 diabetes 2010 Postgrad Med 122(2):112-20.
9.
Australian Medicines Handbook 2019, Adelaide.
10.
Bersoff-Matcha SJ, Chamberlain C, Cao C, Kortepeter C, Chong W Fournier gangrene associated with sodium-glucose cotransporter-2inhibitors: A review of spontaneous postmarketing cases 2019 Ann Intern Med 170(11):764-769.
11.
https://www.diabetes.co.uk/diabetes-medication/sglt2-inhibitors.html
12.
https://www.diabetes.org.uk/guide-to-diabetes/enjoy-food/eating-with-diabetes/managing-other-medical-conditions/coeliac-disease-diabetes