New NDSS resources for health professionals and people living with diabetes and an intellectual disability

Introduction
Adults with intellectual disabilities are two to three times more likely to develop diabetes 1. However, there are limited diabetes-specific resources for this population.
Due to the complexities of managing diabetes and a disability, people with an intellectual disability can find it difficult to understand how to optimally manage diabetes, including keeping blood glucose levels in target range, healthy eating, maintaining a healthy weight, and preventative care such as foot care and eye care. Therefore, it's important that people with diabetes and disability are well supported by their carers and health professionals.
"As diabetes educators we know that self-management is important for people with diabetes, but to help those with an intellectual disability to achieve it can be challenging. It can be difficult for us to understand the needs and capacities of the individual, tailor our communication and find information in an appropriate form. Those who support the individual; family, carers, support workers and other health professionals, need our support as well as they often lack adequate knowledge of diabetes and how to facilitate self-management. We developed these resources to help overcome these challenges" Patricia Marshall, Expert Reference Group.
To meet this need and support health professionals ADEA (funded by the NDSS) formed an Expert Reference Group to identify the needs and information requirements to support both health professionals and people living with diabetes and an intellectual disability.  As a result of surveys conducted with health professionals, carers and people with an intellectual disability it was identified that there was a need for:
resources to assist health professionals effectively communicate about diabetes with people with an intellectual disability and
simple, easy to understand resources for people with an intellectual disability about diabetes and about how to maximise their visits with health professionals.
An article published in the ADE in 2020 by Dr Roy Rasalam outlined the development of two NDSS resources now available for health professionals.  These are:
Effective communication with people who have an intellectual disability about their diabetes: a guide for health professionals
This booklet provides practical information about effective communication strategies when working with people living with diabetes and an intellectual disability. Visit the NDSS website at ndss.com.au/intellectual-disability to download your copy of this booklet.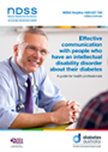 2. Tailor your communication skills: A training module for health professionals caring for adults with diabetes and an intellectual disability
This training module builds on the written guide to provide up to date and practical information on communicating and caring for adults with diabetes and intellectual disability. Visit healthprofessionals.learnupon.com to sign up to the learning portal and access this module. This module is endorsed by ADEA for 4 CPD points.
Following on from the development of these resources for health professionals, the Expert Reference Group, in consultation with carers and people living with intellectual disabilities, developed a series of resources to support people living with diabetes and their carers. This includes:
The above resources are also available in Arabic, Chinese simplified and Chinese traditional.
To help understand more about diabetes, a series of 5 videos are also available. The videos cover:
For more information visit ndss.com.au/diabetes-and-intellectual-disability.
Conclusion
ADEA invites you to share these resources with your colleagues and relevant networks. We also welcome feedback on these resources – you can contact us at ndss@adea.com.au
Next steps
ADEA is currently working on the development of information packs to assist carer organisations providing support and care for adults with disabilities and diabetes who require insulin. In the coming months, we will be consulting with carer organisations about these packs.
Acknowledgements
This project was funded through the National Diabetes Services Scheme (NDSS). The NDSS is an Australian Government initiative administered by Diabetes Australia. ADEA is a National Health Professional Body Agent for the NDSS.